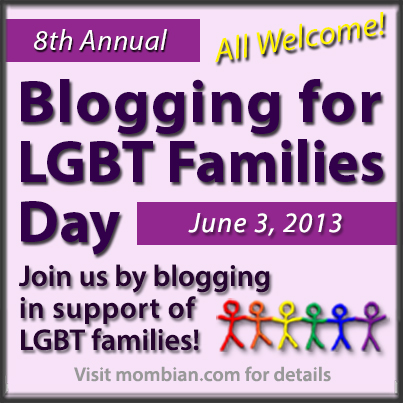 Join Mombian and blog in support of LGBT families on or before June 3rd, 2013. It doesn't matter if you're an individual or an organization, if you're LGBT or a straight ally — the goal is to celebrate the diversity within the LGBT community and the similarities of that community within the overall patchwork of all families. Mombian encourages participants to insert the official banner in their post and then fill out a form on their website to be included in posts that will be highlighted on the Mombian website June 3rd.
From Mombian:
Over the past seven years, hundreds of bloggers from around the world have participated, including lesbian moms, gay dads, bisexual parents, transgender parents, adult children of LGBT parents, LGBT individuals without children, and straight allies. Some bloggers told stories about their paths to parenthood, or tales about their children; some wrote about LGBT relatives or friends; others discussed current political events; and several spoke of why their faith obliges them to support LGBT rights. This year's writings should be equally diverse and compelling.
Here's how it works:
Blog on a topic related to and supportive of LGBT families on or before June 3, 2013.
Complete the form at the bottom of this post to submit your entry. I encourage people to post on June 3, but I am posting the form now in case anyone really wants to submit something early.
I'll compile the posts and highlight them here on June 3. Come back and read the stories and insights of our community and allies.
Additionally, you can:
Tweet in support of LGBT families on June 3, 2013. Include the hashtag #lgbtfamilies. I will display the tweets in a scrolling box here at Mombian, or you can follow the hashtag using most popular Twitter software.
Upload a video to YouTube or other video sharing service. Tag it "lgbtfamilies". Complete the form at the bottom of this post to submit the permalink to your entry.
Grab a banner and promote the event on your blog, Facebook, Twitter, etc. The more people who participate, the more impact our voices will have.
Learn more from Mombian.com — we can't wait to read your blogs!